Більше, ніж напис: назва магазину в ментальному лексиконі мовця
Ключові слова:
когнітивна ономастика, ергонім, магазинонім, комерціонім, ментальний лексикон, онімний концепт
Анотація
У статті проаналізовано, як одна з груп онімів (назви магазинів) представлена в ментальному лексиконі мовців та який вплив має ця частина концепту на формування їхнього уявлення про позначувану сферу. На матеріалі анкетування жительок Києва досліджено обсяг і наповнення субфрейму магазинонімів (сформованого назвами магазинів одягу, взуття та продуктів харчування), схарактеризовано особливості їх концептуалізації.
Посилання
Azhnyuk, B. (2002). Lingvistychni aspekty globalizaciyi v Ukrayini [Linguistic aspects of globalization in Ukraine]. In Movni konflikty i garmonizaciya suspilstva: materialy nauk. konf. 28–25 travnya 2001 r. [Conflicts of Languages and Harmonization of Society: Materials of Scientific Conf., May 28-25, 2001] (pp. 144–150) [in Ukrainian].
Bagan, M. (2018). Problema kultury onimotvorennya v suchasnomu ukrayinskomu televizijnomu prostori [A problem of culture of coining of new onyms in modern Ukrainian televisional space]. Ukrayinskyj smysl [Ukrainian Sense], 181‒193 [in Ukrainian].
Belej, O. (1999). Suchasna ukrayinska ergonimiya: vlasni nazvy pidpryyemstv Zakarpattya [Modern Ukrainian ergonym system: the proper names of enterprises of Zakarpattia] [in Ukrainian].
Bezugla, R. (2010). Masova kultura: do problemy vyznachennya ponyattya [Mass culture: to the problem of determination of concept]. Kultura i mystecztvo u suchasnomu sviti [Culture and Art in Modern World], 11, 25‒34 [in Ukrainian].
Cilyna, M. (2006). Ergonimy m. Kyeva: struktura, semantyka, funkcionuvannya [Ergonyms of Kyiv: structure, semantics, functioning] [Candidate's thesis] [in Ukrainian].
Cilyna, M. (2019). Nazvy zhytlovykh kompleksiv mista Kyeva: pokhodzhennya, pryncypy nominaciyi, struktura [Names of residential complexes in Kyiv: origin, principles of nomination, structure]. Naukovi zapysky Nacionalnogo universytetu "Ostrozka akademiya". Seriya "Filologiya" [Research Notes of National University "Ostrozka akademiya". Series "Philology"], 7, 91‒94 [in Ukrainian].
Didur, Yu. (2015). Osoblyvosti funkcionuvannya ergonimiv u movi, movlenni ta mentalnomu leksykoni (v ukrayinskij, anglijskij ta rosijskij movakh) [Features of ergonyms in language, speech and mental lexicon (in Ukrainian, English and Russian)] [Candidate's thesis] [in Ukrainian].
Dudka, O., & Ponomarenko, V. (2014). Suchasnyj ergonimikon Kharkova: osoblyvosti struktury i semantyky [Modern ergonyms of Kharkiv: features of structure and semantics]. Naukovyj visnyk kafedry YuNESKO KNLU. Seriya "Filologiya, pedagogika, psykhologiya" [Research Announcer of YuNESKO KNLU Chair. Series "Philology, Pedagogy, and Psychology"], 28, 90‒94 [in Ukrainian].
Gorozhanov, Yu. (2013) Ergonimy mista Luczka: strukturno-semantychnyj analiz [Ergonyms of Lutsk: structure and semantic analysis]. Filologichni studiyi [Philological Studies], 9, 134‒139 [in Ukrainian].
Hrushkova, O. (2016). Struktura ta funkcijne navantazhennya pysemnykh nosiyiv informaciyi suchasnogo mista [Structure and functional filling of written information carriers of the modern city] [Candidate's thesis] [in Ukrainian].
Karpenko, O. (2006). Kognityvna onomastyka yak napryamok piznannya vlasnykh nazv [Cognitive onomastics as a direction of cognition of proper names] [Doctor's thesis] [in Ukrainian].
Karpenko, Yu. (2004). Vlasni nazvy [Proper names]. In Ukrayinska mova. Encyklopediya [Ukrainian Language. Encyklopediya ] (pp. 83–84) [in Ukrainian].
Kutuza, N. (2003). Strukturno-semantychni modeli ergonimiv (na materiali ergonimikonu Odesy) [Structural and semantic models of ergonyms (on the material of the ergonyms of Odessa)] [Candidate's thesis] [in Ukrainian].
Langendonck, Willy Van. (2007). Proper Names as the Prototypical Nominal Category. Names, 55 (4), 437‒444.
Lyesovecz, N. (2007). Ergonimiya m. Luganska: strukturno-semantychnyj i socialno-funkcionalnyj aspekty [Ergonyms of Luhansk: structural-semantic and socio-functional aspects] [Candidate's thesis] [in Russian].
Pamp, Bengt. (1985). Ten Theses on Proper Names. Names, 33 (3), 111‒118.
Poznixirenko, Yu. (2018). Motyvacijna baza ergonimiv yak znakiv sociokulturnogo prostoru Ukrayiny j anglomovnykh krayin (na materiali nazv zakladiv kharchuvannya [Motivational base of ergonyms as signs of socio-cultural space of Ukraine and English-speaking countries (based on the names of food services)] [Candidate's thesis] [in Ukrainian].
Shestakova, S. (2002). Leksyko-semantychni innovaciyi u systemi suchasnoyi ukrayinskoyi nominaciyi (na materiali ergonimiv i pragmonimiv) [Lexical and semantic innovations in the system of modern Ukrainian nomination (based on ergonyms and pragmonyms)] [Candidate's thesis] [in Ukrainian].
Sokolova, L. (1993). Typy motyvovanosti ergonimiv (na materiali ergonimiv m. Kyeva) [Types of ergonymic motivation (based on ergonyms in Kyiv)]. Movoznavstvo [Linguistics], 6, 65‒69 [in Ukrainian].
Sydorenko, E. (2013). Nominatsionnyie protsessyi v polilingvalnoy ergonimii Donetchinyi [Nomination processes in polylingual ergonomics of Donetsk region] [Candidate's thesis] [in Ukrainian].
Torchynskyj, M. (2019). Kvantytatyvna xarakterystyka ukrayinskoyi ergonimiyi [Quantitative characteristics of Ukrainian ergonyms]. Filologichnyj chasopys [Philologycal Journal], 1 (13), 139‒148 [in Ukrainian].
Zymovecz, G. (2009). Ergonimy ta pragmonimy v strukturno-semantychnomu ta lingvopragmatychnomu aspektakh [Ergonyms and pragmonyms in structural-semantic and linguo-pragmatic aspects]. Naukovi praci Kamyanecz-Podilskogo nacionalnogo universytetu imeni Ivana Ogiyenka. Filologichni nauky [Researches of Kamyanecz-Podilskyy National University named by Ivan Ohiyenko. Philological Science], 20, 202‒206 [in Ukrainian].
Zymovecz, G. (2010). Problema motyvovanosti vlasnykh nazv [The problem of motivation of proper names]. Filologichni studiyi. Naukovyj visnyk Kryvorizkogo derzhavnogo pedagogichnogo universytetu [Philological Studies. Research Announcer of Kryvyy Rih State Pedagogical University], 5, 38‒46 [in Ukrainian].
Zymovecz, G. (2018). Vidobrazhennya ideologichnykh spryamuvan i dominantnykh identychnostej epokhy v klasi ergonimiv [Reflection of ideological trends and dominant identities of the era in the class of ergonyms ]. Mova i suspilstvo [Language and Society], 9, 108–117 [in Ukrainian].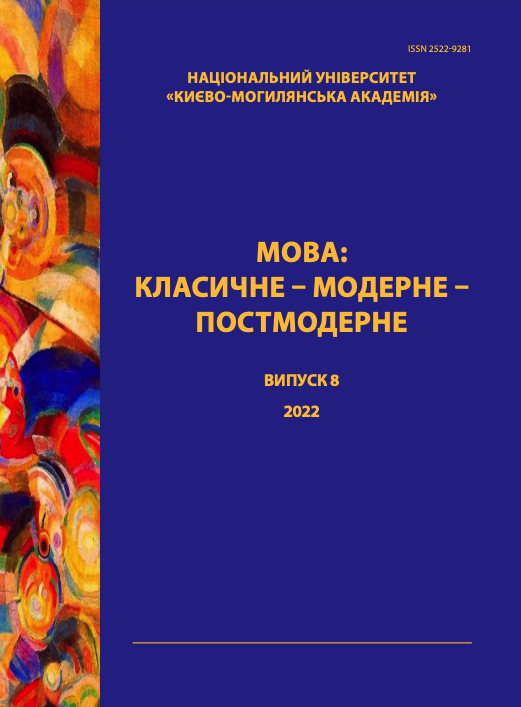 ##submission.downloads##
Як цитувати
Kadochnikova, O. (2022). Більше, ніж напис: назва магазину в ментальному лексиконі мовця. Мова: класичне - модерне - постмодерне, (8), 5–21. https://doi.org/10.18523/lcmp2522-9281.2022.8.5-21
Ліцензія
Авторське право (c) 2023 Olena Kadochnikova
Ця робота ліцензується відповідно до Creative Commons Attribution 4.0 International License.
Автори, які публікуються у цьому журналі, погоджуються з такими умовами:
а) Автори зберігають за собою авторські права на твір на умовах ліцензії Creative Commons Attribution License CC BY 4.0, котра дозволяє іншим особам вільно поширювати (копіювати і розповсюджувати матеріал у будь-якому вигляді чи форматі) та змінювати (міксувати, трансформувати, і брати матеріал за основу для будь-яких цілей, навіть комерційних) опублікований твір на умовах зазначення авторства.
б) Журнал дозволяє автору (авторам) зберігати авторські права без обмежень.
в) Автори мають право укладати самостійні додаткові угоди щодо поширення твору (наприклад, розміщувати роботу в електронному репозитарії), за умови збереження посилання на його першу публікацію. (Див. Політика Самоархівування)
г) Політика журналу дозволяє розміщення авторами в мережі Інтернет (наприклад, у репозитаріях) тексту статті, як до подання його до редакції, так і під час його редакційного опрацювання, оскільки це сприяє виникненню продуктивної наукової дискусії та позитивно позначається на оперативності та динаміці цитування опублікованої роботи (див. The Effect of Open Access).