Структурно-словотвірні особливості мікротопонімів Донеччини
Ключові слова:
мікротопонім, прості, складні, складені оніми, прийменникові сполуки, модель, іменник, прикметник
Анотація
У статті проаналізовано структурно-словотвірні особливості про- стих, двослівних, прийменникових та багатокомпонентних мікротопоні- мів Донеччини. З'ясовано, що прості оніми зазвичай утворені лексико-се- мантичним способом. Мікротопоніми, утворені морфологічним способом, представлені переважно суфіксальними дериватами. Серед складених двослівних конструкцій найбільше виявлено двочленних найменувань, атрибутом у яких найчастіше є прикметник.
Посилання
Banoi, V. (2019). Osoblyvosti funktsionuvannia zakarpatskykh mikrotoponimiv, utvorenykh shliakhom substantyvatsii [The features of functioning of Transcarpathian microtoponyms formed by nominalization]. In Aktualni pytannia humanitarnykh nauk: mizhvuz. zb. nauk. prats molodykh vchenykh Drohobytskoho derzhavnoho pedahohichnoho universytetu Ivana Franka [Topical Issues of the humanities: interuniversity collection of scholar works of young scientists of Ivan Franko Drohobych State Pedagogical University] (Vol. 24 (T. 1), pp. 43–49). Drohobych: Vydavnychyi dim "Helvetyka" [in Ukrainian].
Buchko, D. H. (1992). Oikonimiia Pokuttia [Oikonyms of Pokuttia]. (Extended abstract of Disserta- tion). Chernivtsi, Ukraine [in Ukrainian].
Buchko, D. H. (2005). Anoikonimy sil davnoho Liubachivskoho povitu [Anoikonym of villages of ancient Lyubachiv District]. In M. Łesiow, & M. Olejnik (Eds.), Mikrotoponimia na pograniczach językowo-kulturowych (pp. 17–23). Lublin: Wydawnictwo Uniwersytetu Marii Curie-Skłodwskiej [in Ukrainian].
Cherniakhivska, Ye. M. (1962). Pytannia slovotvorchoi struktury toponimichnykh nazv Lvivshchyny [Questions of word-formative structure of toponymic names in Lviv region]. In Pytannia topon- imiky ta onomastyky [Topics of toponymy and onomastics] (рр. 101–108). Kyiv [in Ukrainian].
Karpenko, Yu. O. (1970). Toponymy y heohrafycheskyie termyny (voprosy vzaymosviazy) [Toponyms and geographical terms (relationship issues)]. In Mestnyie heohrafycheskyie terminy: voprosy heohrafii [Local geographic terms: Geographical Issues] (No. 81, pp. 36–45). Moskva: Mysl [in Russian].
Karpenko, Yu. O. (1973). Toponimiia Bukovyny [Toponymy of Bukovyna]. Kyiv: Naukova dumka [in Ukrainian].
Karpenko, Yu. O. (1992). Synkhronichna sutnist leksyko-semantychnoho sposobu slovotvoru [Synchronous essence of lexical-semantic way of word formation]. Movoznavstvo [Linguistics], 4, 3–10 [in Ukrainian].
Kotovych, V. (2005). Peremyshlianshchyna u svitli heohrafichnykh nazv [Peremyshliany Raion in the light of geographical names]. In Tradytsiine i nove u vyvchenni vlasnykh imen: tezy dop. Mizhnar. onomastychnoi konf. (Donetsk – Horlivka – Sviatohirsk, 13–16 zhovtnia 2005 r.) [Traditional and new in the study of proper names: abstracts of reports of the International Onomastic Conference] (pp. 93–97). Donetsk [in Ukrainian].
Kovalyk, I. I. (2008). Pro onomatyzatsiiu, transonomatyzatsiiu i denomatyzatsiiu [On onomatization, transonomatization and denomatization]. In Z. Terlak (Ed.), Pytannia ukrainskoho i slovianskoho movoznavstva. Vybrani pratsi [Issues of Ukrainian and Slavic linguistics. Selected works] (Vol. 2, pp. 280–282). Lviv, Ivano-Frankivsk [in Ukrainian].
Lisniak, N. I. (2004). Mikrotoponimiia Zakhidnoho Podillia [Microtoponymy of Western Podillia]. (Extended abstract of Dissertation). Lviv, Ukraine [in Ukrainian].
Luchyk, V. V. (2007). Pozamovni chynnyky y katehorii oikonimnoi nominatsii [Extralinguistic factors and categories of oikonymic nomination]. In V. P. Shulhach et al. (Eds.), Studii z onomastyky ta etymolohii [Onomastics and etymology studies] (pp. 193–201). Kyiv [in Ukrainian].
Lukash, H. P. (2006). Onomastychna metafora y konotatyvnyi onim: spilne ta vidminne [Onomastic metaphor and connotative onym: common and different]. In R. M. Kozlova (Ed.), Aktualnye voprosy slavianskoi onomastyky: mater. III Mezhdunar. nauch. konf. «Slavianskaia onomastyka v arealnom, etymolohycheskom y khronolohycheskom aspektak» (6–7 oktiabria 2006 h.) [Current issues of Slavic onomastics: materials of III International scientific conference "Slavic onomastics in areal, etymological and chronological aspects"] (pp. 171–178). Homel: HHU im. Skoryny [in Ukrainian].
Luzhetska, O. (2012). Mikrotoponimy skladenoi struktury Berezhanshchyny ta Pidhaiechchyny [Microtoponyms of the complex structure of Berezan and Pidhaiech regions]. In Ridne slovo v etnokulturnomu vymiri [The native word in the ethnocultural dimension] (pp. 181–188). Retrieved from http://nbuv.gov.ua/UJRN/rsev_2012_2012_25 [in Ukrainian].
Lysenko, A. (2009). Pervynni oikonimy Poltavskoi oblasti [Primary oikonyms of Poltava Oblast]. Linhvistychni studii [Linguistic studies], 18, 212–216 [in Ukrainian].
Mykhalchuk, O. I. (1998). Mikrotoponimiia Pidhiria [Microtoponymy Pidhiria]. (Extended abstract of Dissertation). Kyiv, Ukraine [in Ukrainian].
Otin, Ye. S. (1992). Shcho take toponimika (vstupna lektsiia do spetskursu z linhvistychnoho kraieznavstva) [What is toponymy (introductory lecture to a special course in linguistic regional study)]. In V. D. Poznanska et al. (Ed.), Struktura i funktsii onomastychnykh odynyts [The structure and functions of onomastic units: a collection of scholar papers] (pp. 4–23). Donetsk: DonDU [in Russian].
Otyn, E. S. (2014). Proiskhozhdenyie heohrafycheskikh nazvanii Donbassa [The origin of the geographical names of Donbass]. Donetsk: Yuho-Vostok [in Russian].
Podolskaia, N. V. (1983). Tipovyie vostochnoslavianskyie topoosnovy: slovoobrazovatelnyi analiz [Typical East Slavic topostems: word-formative analysis]. Moskva: Nauka [in Russian].
Poliarush, T. (2003). Struktura i funktsionuvannia skladenykh nazv u riznykh klasakh toponimiv [Structure and functioning of compound names in different classes of toponyms]. Naukovi zapysky Ternopilskoho derzhavnoho pedahohichnoho universytetu. Seriia: Movoznavstvo [Proceedings of Ternopil State Pedagogical University. Series: Linguistics], 1, 138–142 [in Ukrainian].
Prots, O. I. (2011). Mikrotoponimiia pivnochi Lvivskoi oblasti [Microtoponymy of Northern Lviv Oblast]. (Extended abstract of Dissertation). Lviv, Ukraine [in Ukrainian].
Sehin, L. V. (2020). Strukturno-slovotvirni osoblyvosti mikrotoponimiv mista Sloviansk [Structural and word-forming features of microtoponyms of Sloviansk]. Naukovyi visnyk Drohobytskoho pedahohichnoho universytetu imeni Ivana Franka. Seriia: "Filolohichni nauky" (movoznavstvo) [Scientific Bulletin of Ivan Franko Drohobych Pedagogical University. Series: "Philological Sciences" (linguistics)], 13, 160–164 [in Ukrainian].
Sokil, N. (2008). Mikrotoponimiia Skolivshchyny [Microtoponymy of Skole region]. Lviv: Afisha [in Ukrainian].
Sokil-Klepar, N. (2015). Zemlerobska leksyka yak skladova karpatskykh mikrotoponimiv [Agricultural vocabulary as a component of Carpathian microtoponyms]. Narodoznavchi zoshyty [Ethnographic notebooks], 3, 660–667 [in Ukrainian].
Sorotska, M. (2011). Strukturni osoblyvosti mikrotoponimiv pryimennykovoi ta skladenoi struktury Pivnichnoi Ternopilshchyny [Structural features of microtoponyms of prepositional and compound structure of Northern Ternopil region]. Naukovi zapysky Ternopilskoho natsionalnoho pedaho- hichnoho universytetu. Seriia: Movoznavstvo [Proceedings of Ternopil National Pedagogical University. Series: Linguistics], 2, 191–201 [in Ukrainian].
Torchynska, N. (2014). Mikrotoponimy sela Solobkivtsi Yarmolynetskoho raionu Khmelnytskoi oblasti [Microtoponymy of the village Solobkivtsi (Iarmolynetsii District Khmelnytskii Oblast)]. Re- trieved from http://elar.khnu.km.ua [in Ukrainian].
Tsiluiko, K. K. (1957). Toponimiia Pokrovskoho raionu Dnipropetrovskoho raionu [Toponymy of Pokrovskii District of Dnipropetrovsk District]. Movoznavstvo. Naukovi zapysky [Linguistics. Proceedings], XIV, 62–90 [in Ukrainian].
Yanitska, N. R. (2009). Mikrotoponimy tsentralnykh ta skhidnykh raioniv Lvivshchyny motyvovani nazvamy koloriv [Microtoponyms of the Central and Eastern Districts of Lviv region, motivated by the names of colors]. Lohos onomastyky [Logos of onomastics], 1, 42–47 [in Ukrainian].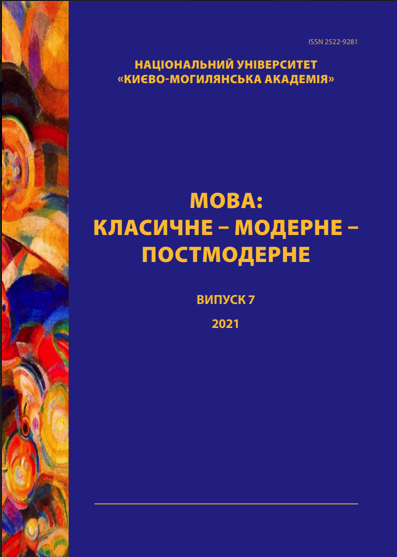 ##submission.downloads##
Як цитувати
Sehin, L. (2021). Структурно-словотвірні особливості мікротопонімів Донеччини. Мова: класичне - модерне - постмодерне, (7), 143–162. https://doi.org/10.18523/lcmp2522-9281.2021.7.143-162
Ліцензія
Авторське право (c) 2021 Liubomyr Sehin
Ця робота ліцензується відповідно до Creative Commons Attribution 4.0 International License.
Автори, які публікуються у цьому журналі, погоджуються з такими умовами:
а) Автори зберігають за собою авторські права на твір на умовах ліцензії Creative Commons Attribution License CC BY 4.0, котра дозволяє іншим особам вільно поширювати (копіювати і розповсюджувати матеріал у будь-якому вигляді чи форматі) та змінювати (міксувати, трансформувати, і брати матеріал за основу для будь-яких цілей, навіть комерційних) опублікований твір на умовах зазначення авторства.
б) Журнал дозволяє автору (авторам) зберігати авторські права без обмежень.
в) Автори мають право укладати самостійні додаткові угоди щодо поширення твору (наприклад, розміщувати роботу в електронному репозитарії), за умови збереження посилання на його першу публікацію. (Див. Політика Самоархівування)
г) Політика журналу дозволяє розміщення авторами в мережі Інтернет (наприклад, у репозитаріях) тексту статті, як до подання його до редакції, так і під час його редакційного опрацювання, оскільки це сприяє виникненню продуктивної наукової дискусії та позитивно позначається на оперативності та динаміці цитування опублікованої роботи (див. The Effect of Open Access).